2002/03/30 (Sat) - 11:50
mkspedal
We receive several emails complaining that the stopper is easy to lose but hard to get.
So we prepare this stopper as spare parts.
Please ask nearby retail shop.(us$5.00 or €5.00/pcs) Or send email from contact form, we will send you directly.
Please attach stoppers firmly, which are necessary to keep adapter sleeve in place.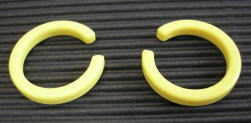 we also receive inquiries about Ezy adapter.
It is available as spare parts.
Please ask retail shop, dealer or distributor.
Compatible with all of Ezy series pedals, but not suit Ezy Superior series pedals.